Hello everyone and welcome to the HALFWAY point!! It's so crazy to think that we're halfway through the month AND this challenge!
If you want to follow along with this challenge go read my introduction post here as well as all the prompts. Let's get started!
Today's prompt is: what Hogwarts house are you in?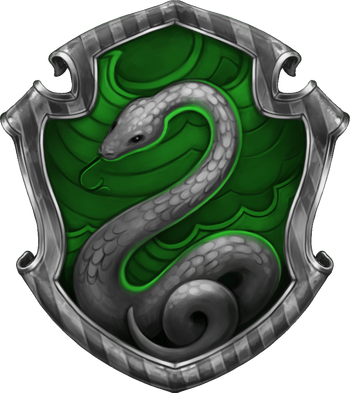 I'm a proud Slytherin. I like to nickname it the 'sarcastic little shit' house because that's what I am, along with most people I know who actually are Slytherins.
I actually have quite a story on my sorting. I used to take all the online tests and stuff (the fake ones) and would get Slytherin and Gryffindor – a mix of each. Then when Pottermore launched the first time I got sorted into Gryffindor and that's what I stayed chilling at for a very long time. I was accepting of it and I liked it.
But when Pottermore relaunched we could redo the test and I decided why not. I wanted to see if I would get the same result. As you may have guessed it, I got Slytherin the second time around. Which goes to show you that the sorting hat may not always be right. It can be mostly right but it proves that as you grow you may be more like another house than the one you get put into first.
I am a proud Slytherin now!!!
If you're one of those people like me let me know below! I want to see if it's just me or if other people had the same experience.
---
Become a supporter on Patreon and help Nerd Side of Life create the kind of content content that YOU want to see! Or support with a one-time Ko-Fi donation!