Well well well. It's been a while. To long, actually. I didn't even write my monthly for June (it will be a combo post of July in which I explain everything) and thought that I wouldn't post all month long.
But today, for some reason, I logged on with motivation for a fresh new start. So here we have it, a brand new fun look (logo to follow, eventually) unlike anything I've ever done before. And honestly? I am in love.
To celebrate I am finally posting! It might shock some of you that in my 25 years of living (yes, I am 25 now as of July 19th) I had never seen Avatar: The Last Airbender in its entirety. I've seen episodes here and there but never the whole thing. So with it being put on Netflix I decided to dive on in. Below are my thoughts, separated by each book (season).
Before proceeding, read my spoiler warning here and proceed with caution.
Before we get going, I'm going to talk a little about just the characters, and who my favorites are. There are so many great ones but there are 3 that I really resonated with that I just thought were marvelous. All of the characters in this show are extremely well written, which is one of the best things about the show in general, but these are just my favorites.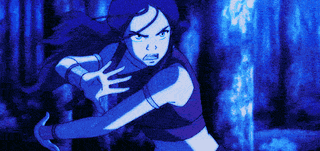 Katara was probably one of the strongest people on the whole show, standing up for herself and her friends and most of all, never giving up even when she was doubted.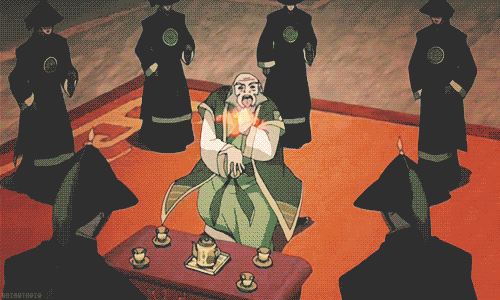 I need an Uncle Iroh in my life. He never gave up on his nephew, knowing full well that Zuko was not this person that he was trying so hard to be. He probably saw some of himself in Zuko as well.
And lastly, it should be no surprise at all to anyone who knows me that I gravitated towards Zuko himself. I love my tall, dark emo boys with emotional issues and redemption arcs.
Book One: Water
Naturally, this is the beginning of everything. Katara and Sokka find Aang and Appa frozen in ice and have to try to explain to him that it's been 100 whole years he's been frozen.
I feel like this one for sure is the most emotional one for Aang, because he realizes that he is alone. No more airbenders, his family, friends, mentor, all gone. This was really the foundation for the whole series I feel, because once he was able to overcome that he was almost unstoppable.
But there is also the fact that in this book, he is very very much a child. He's immature, not taking his duty seriously when he has to. At first, I believe he doesn't because he doesn't understand the extent of this war like everyone else, due to be frozen for 100 years. But he begins to when a desperate Zuko starts to hunt him down in an effort to regain his honor and be welcomed back home.
The main premise of this story is to travel to the North Pole, where both Aang and Katara can learn water bending. When they get there Aang is welcomed with open arms to learn, but Katara is not. Turns out the Northern Water Tribe are a bunch of misogynists. But Katara, being the powerful female that she is, overcomes it and actually ends up learning it quicker than Aang and goes on to end up teaching Aang.
Book Two: Earth
I felt like this book is the most important one of them all. Its where we all realize what the Gaang needs to do and we find out a way that we could best defeat the Fire Nation. This is also the book where Aang learns earth bending and Toph is added to the team – a young blind earth bender who's personality is unmatched by anyone else.
However they have a whole new obstacle: Zuko's crazy evil sister Azula is now hunting down the Avatar too, ordered directly by Ozai. Azula is crazy – she will stop at nothing to please her father.
Everybody's bonds grow stronger in this book and it begins the road to redemption for Zuko, on the run with his Uncle Iroh. He's still full of hate and self-doubt, but after a while you begin to see that Zuko isn't all that bad. He's just a little boy who was deprived of the attention he needed, desperate to get it back.
They tease you and make you feel like he's redeemed in this season. He and Katara are both thrown in Dai-Le jail essentially and have a conversation thats similar to a heart-to-heart. But all goes back to normal when Azula tells Zuko that he would be welcomed back with open arms since they had (thought) they killed the Avatar.
That's when he betrays Iroh and Katara and assists Azula. All he wanted for two seasons was to go back home and have his father's approval. How could he not pass it up?
This season was also a season that for me, had Sokka shine the most. He was the one that figured out the eclipse was going to be happening, and planned out the whole attack on the Fire Nation. While he may not be a bender, Sokka is brilliant in his own way and the smartest out of all of them.
Book Three: Fire
This one was by far my favorite. Not only because it had an abundance of Zuko, but because everything in this part was just so intense and well told. Everybody had time to shine in this season and got the attention they deserved.
With this being the last season, and with the last one telling you what was about to go down and the best way to go about defeating Firelord Ozai, you know what's going to happen. Everything is at stake and they don't let you forget it.
I feel like this is finally where Aang grew as a person the most – he finally realized he could defeat the Firelord and that it was possible because he was strong enough. And yes, he was strong enough. He managed to take down Firelord Ozai without killing him, stripping him of his bending and handing him over to Zuko for punishment.
Now let's talk about Zuko in this season. He's back in the Fire Nation, got a girlfriend, a seat by his father's side, what more could he possibly want? Turns out he isn't so happy where he's at. He realizes that this isn't what he wants nor what he needs to do, especially after hearing about his father's plan to essentially take over the world as the ruler. So he decides to do what he feels is right: leave his home, find Aang, and teach him firebending.
Of course, it won't be easy for him. They all hate him. But eventually, they come around and he and Aang both become amazing fire benders. In the end, Zuko becomes Firelord after an intense battle with his sister and Aang stands by his side, as they both vow to make a change in the world, ending the 100 year war.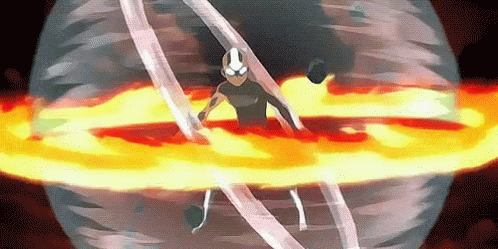 So, in conclusion, this show was fucking amazing. I'm going to watch Legend of Korra next, which hits Netflix on August 14th. But this had to be one of the most well written shows I have seen in a long time – everything was perfect and there was not one moment where I was bored.
All the characters were written flawlessly, the plot was incredible and it was fun to watch. Even the animals had personalities and arcs of their own. They really didn't let one thing go unnoticed.
That's all I have for you today! I have more posts lined up in the queue to write out, many of them very exciting (for me). I'll see you all then!
---
Become a supporter on Patreon and help Nerd Side of Life create the kind of content content that YOU want to see! Or support with a one-time Ko-Fi donation!