Come one, come all, to read the most exclusive of all Top 5's to get on: my Top 5 Marvel Movies. I love most Marvel movies, but breaking into my top 5 is something that not a lot manage to do. It's a very special place and these movies should feel honored to sit where they do on the top 5.
Cockiness aside, I'm very selective with the Marvel movies I place here. I have to have seen them more than once (usually) and I have to have enjoyed them all times. To me, these movies have done no wrong.
Now let's get on with it! If you wanna see my selective list of my Top 5 Marvel movies, and click below!
Before proceeding, read my spoiler warning here and proceed with caution.
5. Captain America: Civil War
Civil War brings on one of the most pivotal moments in the franchise where the team learns who they can and really can't trust. Steve and Tony turn against each other to each do what is right and it splits everybody in half, literally changing everything for the entirety of the Avengers (minus Hulk and Thor who are chillin in space at this point).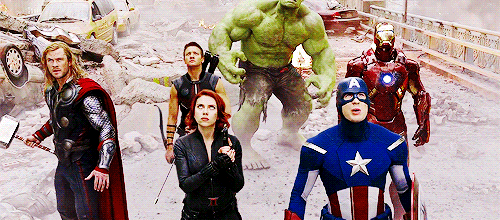 4. Avengers
This is the one that started it all for me. Avengers was the first superhero movie I ever watched and it has a very special place in my heart. It was what started my obsession and I have it to thank for a lot of different things.
Despite how I feel about it's director, the movie was fantastically made and is one Marvel movie that I think most people can agree on when trying to decide what to watch. It's a classic – you see the team get together for the first time.
3. Avengers: Endgame
Listen… I sat and saw this movie three WHOLE TIMES. That's 9 hours of my life I gave to this movie. I laughed, I cried, and I cried some more. And I would do it 9 more times because for me, this movie was the proper and right conclusion to the MCU that we deserved.
Sure, we lost but we knew we were going to lose some. But it was still pretty fucking great. Captain America wielding the hammer. Sam becoming Cap. It was all so satisfying.
Even though I lost Nat. And I will never get over it.
2. Deadpool
We can't go wrong with Deadpool. I'm not talking about the second one that doesn't live up to the first one. I am talking about the first one. People were nervous when they first announced it because a lot of us were skeptical on how they could make Deadpool truly Deadpool.
Ryan Reynolds is perfect for this role and the R Rating is what really made this movie the best that it could be. It was bloody violent, it was hilarious, it was everything that we wanted Deadpool to be and more. This movie was fan service at it's finest and god dammit, I'll take it.
1. Captain America: The Winter Soldier
I can watch this 100 times in a row and I will not get sick of it. Firstly, this movie re-introduces us to Bucky Barnes, a character that I love and adore. That is not the main reason why I love this movie. I argue that this is the most important movie in the whole of the MCU until Infinity War.
CATWS is when Steve Rogers realizes that he is alone in a sense. He's always worked under someone and been able to trust them, but when he finds out the very organization that he lays down his life for is HYDRA, the organization he thought he destroyed, he feels lost and doesn't seem to know what to do. Captain America wouldn't betray his own organization, but he does because he now knows that is what is right.
Well, we finally have it! My Top 5 Marvel movies! These are obviously subject to change as more release, but right now the list is pretty steady. What are your top 5? Do you agree or disagree with some of my choices?
---
Become a supporter on Patreon and help Nerd Side of Life create the kind of content content that YOU want to see! Or support with a one-time Ko-Fi donation!